SAP Sales Cloud
Smart. Efficient. Connected. With SAP Sales Cloud, you can accelerate sales processes, delight customers, and always work mobile and independently.
Learn more
More power for your sales
Sales 4.0 is more than just classic customer relationship management (CRM): Optimize sales processes - inspire customers - work mobile and independently. From salesperson to customer understanding: You always have customer data, evaluations and sales forecasts at your fingertips, exchange information easily with colleagues and know today what your customers want tomorrow. With SAP Sales Cloud, you control your customer processes unerringly, anytime and anywhere.
SAP Sales Cloud offers you
Simple and central management of contacts, leads, opportunities and offers
Location and device-independent availability of all relevant information
Intuitive user guidance and latest user design
Intelligent analysis & forecast functionalities
Integration of e-mail, calendar, telephony and sharepoint
Machine Learning: identify promising leads and opportunities automatically
Your added value
Faster business transactions through intelligent sales management
More turnover through optimal customer support
More time for customers through comprehensive reduction of administrative workload
Highest degree of user acceptance through the latest user guidance and interface design
Seamless and efficient cooperation between all sales team participants

Echobot CONNECT Integration
The Echobot CONNECT integration with SAP Sales Cloud provides you with important customer data such as customer contacts, news about your target customer or financial KPIs. This gives you deep insights for sales conversations or to react targeted to customer signals.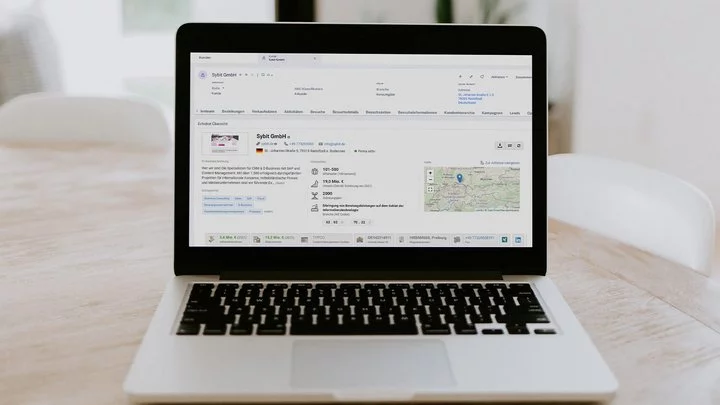 Key features of SAP Sales Cloud
Next Best Action
Next "BEST" action – gear your next steps in a targeted manner according to the current needs of your customer. Only in this way can you provide appropriate information and score points with the best offer. You thus ensure that your actions are targeted and efficient.

Sales management
Complete, comprehensive and current data forms the basis of your sales management. You always have all relevant information at hand clearly and in interactive form. The result: targeted planning, steering and control of your sales activities.

Use cross-selling and upselling potentials
After the purchase is before the purchase. Long-term customer retention guarantees continuous turnover. Through comprehensive knowledge of sales history, interests and current trends, you recognise cross-selling and upselling potentials at an early stage and can fully exploit them.

Real time reporting
Whoever wants to assert themselves in uncontested markets needs more than classic past-oriented reporting. Current evaluation options which you can easily use and network at any time ensure that you are always one step ahead.
Lead Intelligence
You can calculate which interested party will become a real sales opportunity and which contact points have an influence on lead nurturing. Make your decisions with the support of the system, based on intelligent evaluations which your system learns on an ongoing basis from the collected data.
Sales planning & pipeline simulation
Use current data to advance your sales planning with system support. You get precise information about your leads, opportunities and sales prospects. Pipeline simulation gives you an insight into the probable development of your sales funnel. You can discover gaps early and take targeted countermeasures.
Comprehensive collaboration
Is your mailbox overflowing? An interactive platform is a much more efficient way to exchange information about important offers or customers with colleagues. Here, cross-functional teams can communicate directly and contextually, exchange knowledge and advance particular topics.

Oops, an error occurred! Code: 202309282012242d66b3cb
Offer configuration par excellence
SAP CPQ (Configure Price Quote)
Sales optimisation 4.0: conclude business faster – individual offer price configuration – reach more customers – motivate sales through flexible offer price configuration with SAP CPQ (formerly CallidusCloud).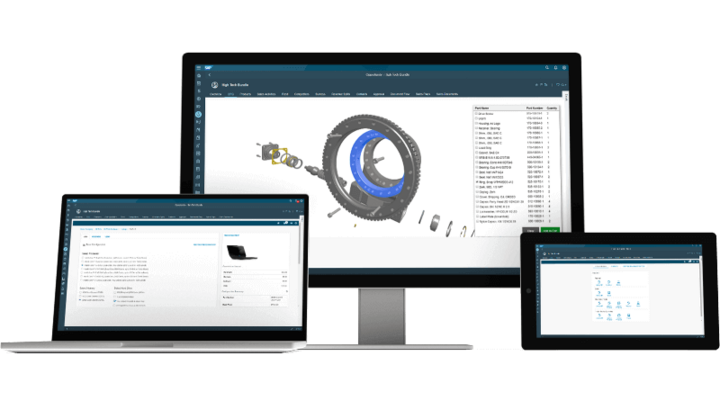 SAP Sales Cloud Overview
SAP Sales Cloud is a mobile first solution that focuses on the four key areas that help your business to act faster, become more relevant, have a strong presence and sell more – watch the video to find out more.
SAP Sales Cloud: Sales Manager
SAP Sales Cloud Homepage, unlike other CRM solutions, puts all of the information sales reps and managers need into one place – find out more by watching now.
What can we do for you?
Do you have any questions about our services or do you wish to arrange a consultation? We shall be pleased to assist you and look forward to meeting you. Simply get in touch with us.
Marilena Baartz, Business Development
Contact now